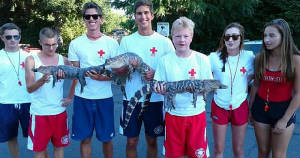 VIRTUAL REPTILE SHOW,

Setup, and ready to go.

Zoom or Google Hangout,

Educational fun is what it's about!

$200.00 Per hour.

Business Sponsorships can be accommodated for those desiring to help their community schools.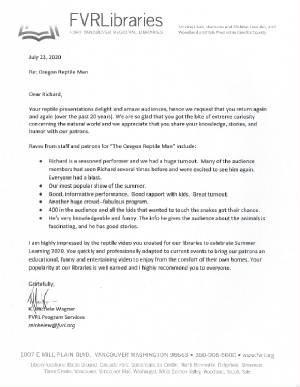 Rich,

Thank you so much for joining us today! The group can't stop commenting on how fun the event was. My personal favorite was the Gaboon Viper. Really loved your stories; hope it was an equally awesome experience for you.

Dia Jarvie

Verizon Inc.
Hi Mr. Ritchey,




Thank you so much for your sessions with our kids. Interesting stories, highlighting of books and reading, and facts about reptiles. A+. We will be back in touch next year.




Thanks again,




Kari

Baranof Elementary School

Sitka, Alaska
Richard "The Oregon Reptile Man" was bitten in 1970. Not literally, but by the bite of extreme curiosity concerning the natural world, and it's seemingly infinite colors, patterns, and abilities in the reptile realm. Established in 1991, The Reptile Man utilizes exotic reptiles from around the world as educational ambassadors to 400 organizations yearly.
"If we remove live animals from humans consciousness, eyes, and other senses, animals will eventually be removed from the earth as well. For love, respect, compassion, and knowledge rises from such experiences, and continues to evolve into conservation efforts in all its various forms."
The Oregon Reptile Man.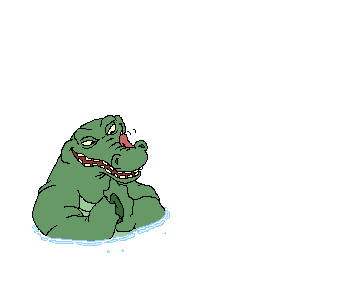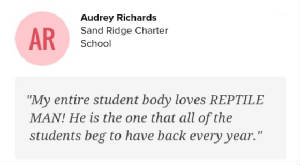 Our Tortoises have made the limelight! Here they are with Pink Martini and the Von Trapps.
Below Is "Bubba" The Eastern Diamondback Rattler. (Venom Removed) Which starred in the movie "WILD" with Reese Witherspoon.
Education in and of itself is limited without the engine of joy, excitement, and love to propel it forward to it's highest potential. For a maximum and lasting impact, make education exciting, entertain with life!
Reptile Man.
Thu,.June 11, 2020
Dear Mr. Richey,
Thank you very much for the fabulous presentation today! At one point, we had over 260 participants in the Zoom meeting. I was scrolling through the different faces, and every student was so engaged and interested. I wish we had that kind of attention when we have regular class instruction. During your presentation, I had teachers texting me saying not only how much they enjoyed watching your presentation, but also watching how excited and interested the students were. It was so nice to see some of the parents watching the presentation alongside their children as well. One of my teachers said he watched it over his large TV with his sons, and they were so excited throughout the presentation asking lots and lots of questions. Thank you so very much again for making the last day of school (of this very strange school year) so special.
Sincerely,
--
Jan Brydle
Principal
Emma W. Shuey Elementary School
Rosemead, CA 91770